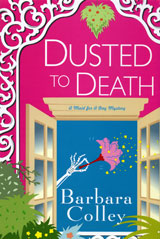 Barbara Colley's website (
http://www.barbaracolley.com/
) has been updated with news about her latest book, "Dusted to Death," due to be released in January 2010.
As the owner of Maid for a Day, Charlotte LaRue has learned that behind closed doors, everyone's dirty laundry holds a few dark secrets—and in the end, they all come out in the wash...

The city of New Orleans has long been a favorite backdrop for movie producers, and now one of Charlotte's best clients, Bitsy Duhe, is getting in on the action. A big Hollywood studio wants to use Bitsy's gorgeous Victorian house for a movie shoot and they are willing to pay her handsomely for the honor. Bitsy consents, but only after Charlotte agrees to take care of her beloved home during the shoot and keep the place spotless as only Charlotte can. For Charlotte, the assignment is an exciting change of pace. On the first day, she meets the whole cast and crew, including one of Hollywood's hottest ingénues, Angel Martinique. But Charlotte quickly discovers that Angel's G-rated reputation is nothing like her off-camera, diva-like behavior. Angel, it turns out, is no angel at all ...